Hey all its been forever! I found two really cool organization ideas. ( courtsey of
Martha Stewart
)
First, this one. How stinkin' cute is this?!?! Not to mention functional. I love how the apples look in the basket and we always always have tons of apples, potatoes and onions here in the McNeil household.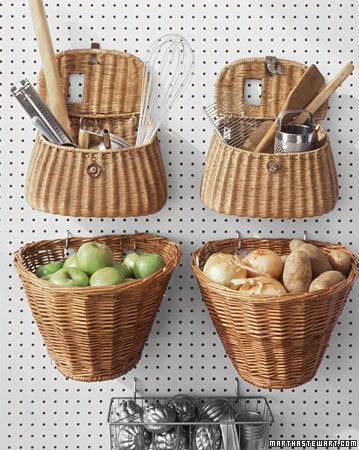 Then I think this is a wayy great ( and pretty) idea.
*sigh* One day when I get my house, I will have soooo many amazing ideas.......
Now onto the sleep advice portion of this post. Our Hailey girl is a bit of a rebel about going to sleep at night. Even though shes obviously tired, she still just wants to come out and hang. I mean I can remember being the same way when I was little. ( not two, more like 12) I just wanted to see what my parents were up to after we were
suppose to be
sleeping.
Anyone have any tips how I can get her to go ( and stay) in her bed at night time without all the crying and meltdowns? Im open for a lot of adice and different ways folks, so lay it on me! :)
Ok, well I think I am starting to get sicky, so Im going to go sit with a warm cup of coffee and watch a bit of the boob tube.....
not actual boobs now, come on! Till next time:
AufWeidersehen!