My brother just called. They are on their way to the hospital. Steph is having contractions. Maybe a baby Ian tonight??? I will keep you updated! Im gonna be an AUNTY!
*
Update: False Labor! She is 4 cm dilated but the contractions stopped after a half hour! Boooo Ian! Come out, we're waiting!!!!

*
**********************
Things here are overwhelming to say the least. Things are going on and Michael's time in the Army may be running out. I don't really want to go into it because, well, I'm not sure if I should talk about it on here because of hubs work. I don't know if he could
get s*it on
have his reputation tarnished......
I will tell you that we have a long road ahead of us.
Time will tell with what happens. All I can do is sit back and let God unfold His plan for us. Everything that happens in our lives are already planned. They are
suppose
to happen. we could totally use some prayers and good vibes sent our way, if anyone feels obliged. (it would be most appreciated!)
*****************************
Onto a lighter note. We have been thinking about re-designing our family room furniture.
I'm totally feeling the neutral-ness of this space. The whites, creams and sages. I think in my old
almost 28 years
age my style is changing. I don't really know what my style is. I like traditional with a hint of contemporary. But mostly traditional. Warm. Classic. Inviting. (I guess I just defined my style!)
I LOVE the coffee table and the white pillows. I love the over-sized books pile on the side of the sectional.
ahhhhh. sooo soothing!
And perfectly me!
I'm blessed enough to have a hubby that gives me free reign over the decorating of our home! I love love love that about him! :)
In my mind, I have a rug that looks similar to this, except it has more baby blue to it rather then the grey-ish.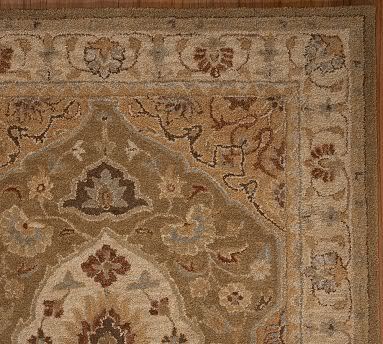 I LOVE this centerpiece on the table. *sigh*
I cannot express to you all how head over heels, drooling all over the place in LUST I am with these buttoned, linen pillows! *drooool*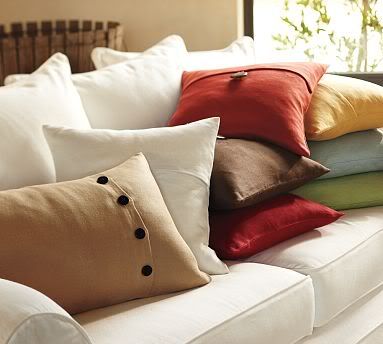 ( Photo
Source
)
I can't have this now, but when we move to out forever home, I have always wanted a wall of shelves similar to this: Isn't she magnificent?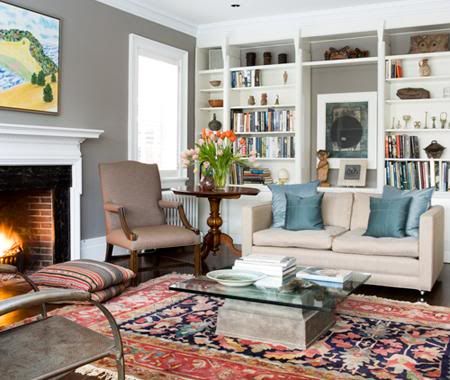 ( Photo
Source
)
LOVE the paneling on the fire place wall.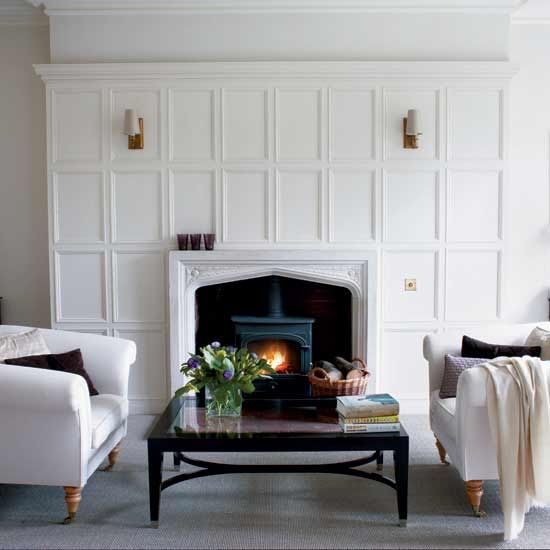 The loungy feel of this room is so relaxing. Can you imagine how it would be to come home after a crazy busy, hectic day and just chill?!?!
I am jealous of how the curtains are tucked behind the archway that leads to the bright and cheery study!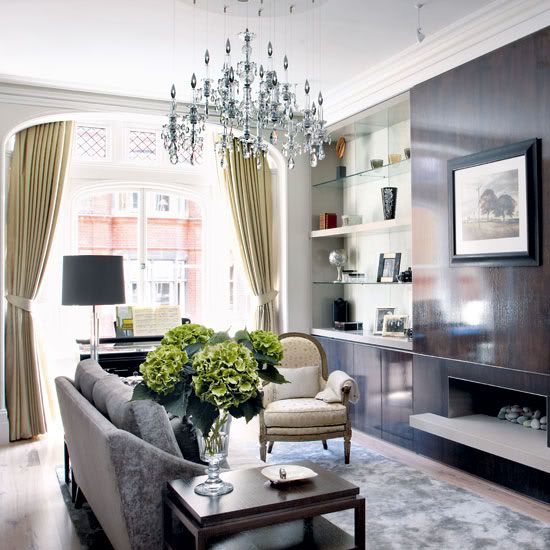 This could go on forever FOLKS! I de-stress when I dream. Awesome! What are your styles?
AufWeidersehen!