Today, 7 months ago, my love left for Iraq. Today 7 months ago we hugged and kissed for the last time for a year. The boys waved and cried when their Daddy got on the bus. Seven months ago I was pregnant with a princess, whose Daddy ever so sweetly rubbed her in my belly and talked to her for the last time until she was born. I cannot believe its been this long.
I am counting it as only four months though because he will be home the first week of what would be month number five. yeah for that!!
In other news, Ive been a baking and cooking machine lately.
Don't believe me??? Check out our cooking blog...
http://www.cookingthroughthecraziness.blogspot.com/
Mikey stayed home from school today. Last night he had a fever and didn't even get to go to soccor practice( not for lack of trying) The poor thing just
looked
sick. Ya know what I mean? ugh. Just about broke my little heart. This morning, I woke up at 730 a.m to see if he was well enough for school....i rolled over and who do you think I saw?? that's right...a sleepy and snoring Mikey in my bed! The poor thing was snoring sooo loudly I decided I would let him stay home and catch up on his rest.
Halfway through the day, he was miraculously better. Running. Playing. Teasing Zachary. He pestered me all morning to go out back and play. Normally the rule is if you stay home sick, no friend time and no playing outside. However, his fever was no where to be found and it was a beautiful 80 degrees out. I caved and let him go out with Zachary. They were in all their super-soaker glory! LOL.
Other then that, today's a pretty calm day. Ive got the air on and am looking forward to LOST tonight......that's right people, it is Wednesday!!!!
You dont mind if I share something with you do you??
It's my favorite picture of the moment.......................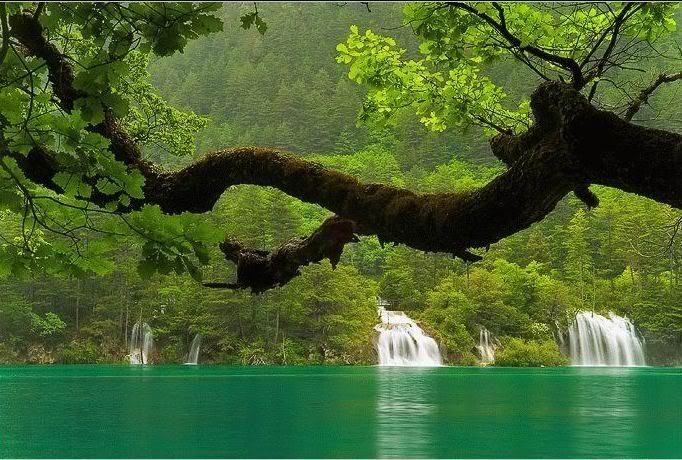 Doesn't that just make you want to be there?!?!
Do y'all have anything your looking forward to tonight??
How was your day???
Thanks for stopping by and I will see you tomorrow for Mama Bears Alphabitty Moments!!!!