As I'm sure many of you gals are, I am a lover of chick flicks. P..S I love You is no exception!!!! We have
Netflix
, and I originally cancelled the account because watching movies was a"me and hubby'' thing. After the kids went to bed, we'd pop in the
latest
arrival
and cuddle up on the couch with some popcorn.
I just didn't see myself ever watching movies by
myself
while he is gone. I don't know whats changed, because lately I have been a movie watching fiend!! It must be because at night I'm lonely and when I watch a movie
after
the kids are in bed I feel like I am connecting with my love. Is that weird? Probably. Oh well.
Anyways, back to P.S. I Love You................Ive seen it many many times before, but just got it in the mail yesterday. Who am I kidding.....its actually been here for about 5 days now. I keep trying to find the perfect time to try and fit it in to watch it, but something always comes up. Monday night I watch the Hills on MTV.Soccer practice Tuesday and Thursday.( we get home at 8 then its baths and snacks and bed time, lunch to be made, school clothes to be laid out...blah blah blah)Wednesdays are LOST night...needless to say nothing else will be watched that night..lol.Then Fridays are girls night with me and my bud Selena. We usually watch movies over here and drink some girl beers.(wine coolers) That hasn't been happening lately because her husband Dave has found a new friend at work and him and his (pregnant) wife have been hanging out with them......I really miss our nights, but I have to share!
hahahahaahha
.
The past two weeks we have all been fighting off a nasty....and I mean nasty...stomach bug. Ive been
wayy
tired and have been going to bed a little bit after the kids are asleep. Today, however I feel much better and I think
I'm
feeling in the mood for a good
ol
' cry........... this is where they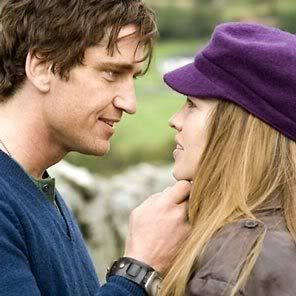 come in!!! This is THE BEST ROMANCE MOVIE EVER!!!
That's
right...I said EVER! In my opinion it beats out The Notebook and that was a great movie!
So my somewhat
reoccurring
readers.........I ask you this........
What is
your
favorite "chick flick" of all time???
Also, here's my list of movies I want to see:
1- Obsessed
2-Fighting
3-Observe and Report
4-Knowing
5-I love you Man
6-Duplicity
7-More Then A Game
8-Ghosts of Girlfriends Past
Anyone have any other good ones that I missed?? Comment me!!!